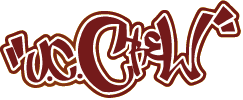 the national award winning hip hop organisation
UC Crew celebrates National Girls and Women in Sports Day
Posted on 02 Feb, 2022
UC Crew celebrates National Girls and Women in Sports Day
The day is important to us and our community, that we celebrate diversity and inclusivity in Breaking. We champion girls and women at UC Crew by providing opportunities in decision making, developing, coaching and competing at all levels.
We regularly involve influential female Breaking coaches and Hip Hop arts role models to UC Crew to inspire our female members to further their knowledge, overcome barriers and achieve their goals.
Our 2021 guest B-Girl/Breaking coaches included Andrea Stockburn (Firefly), Dimestop, Fidget and Sugagill.
How Breaking was grown to become a Girls and Women's Sport in St Helens, Merseyside.
Since UC Crew officially opened in 2004, Breaking has been a grown sport and culture in St Helens, Merseyside but over the last 3 years, we have seen a huge boost in the number of girls and women taking up the Breaking as a new hobby and sport, instead of Zumba, Street Dance, Gymnastics and Jogging.
Our approach to meeting the needs of girls and women in our club is a top priority, we ensure that everyone has equal opportunities to coaching, cultural experiences, equipment, competitions and social activities.
Photos of our B-Girls over the last three years
History of National Girls and Women in Sports Day
The day is observed in America every year on the 2nd February its main aim is to break gender stereotypes in sports and promote women belonging in every aspect of sports.
National Girls and Women in Sports Day was first observed in 1987, since then the day has evolved to commemorate all female athletes, their achievements, the positive impacts of inclusion of women in sports, and to address the challenges regarding equal participation of women in sports activities.
National Girls and Women in Sports Day, is celebrated in all 50 states of the United States and the day is usually celebrated by organising community events, award ceremonies, and other sports activities that inspire girls and women to play sports and be active.