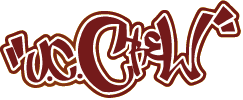 the national award winning hip hop organisation
UC Crew is a National Award Winning Hip Hop Social Action organisation based in St Helens, Merseyside. We used Hip Hop art forms and youth activities to improve communities and make them a better place to live, work and grow up. What began in 2004 as a weekly Break Dance class for teenagers has grown into a nationally acclaimed non-profit organisation that uses the art forms of breaking (breakdance), djing, graffiti, rapping and circus skills, combined with youth work practices that changes people's lives.
We are the leading organisation in the North West delivering a range of Hip Hop and Breaking (Break Dance) workshops which are underpinned by our social action values of changing local communities.
Breaking known as Break Dancing has exploded in popularity over the past few years, particularly with the announcement of its inclusion in the Paris 2024 Olympic Games, there is now not only a greater demand amongst young people and adults to experience Breaking but also a desire to learn the fundamentals of this exciting new sport and culture.
We offer regular classes and workshops for children, teens, adults, schools and organisations in the UK as well as performances and presentations on Breaking and Hip Hop Social Action. Our coaches and workshop leaders have full DBS checks, follow our Hip Hop Social Action values and are highly experienced in their chosen art form and activity.