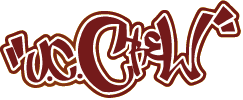 the national award winning hip hop organisation
St Helens Break Dance Album
Freeze Force Crew - St Helens Town Centre 1983. (Credit: St Helens Reporter)
Freeze Force Crew in Church Square, St Helens town centre. (Credit - St Helens Reporter)
Young Breakers posing for a photo in from St Helens around 1984. (Credit: DJ Nick Morley)
Barry Kenyon (In the blue) and Craig Gornall on the BMX, 1984 - St Helens , Blue Ace Estate in Clockface. Africa Bambatta was always blasting out the ghetto blaster. Barry was in Frantic Rockers, Sonic Force and UK Renegades. (Credit - Barry Kenyon)
Barry Kenyon (In the blue) and Craig Gornall on the BMX. 1984 - St Helens , Blue Ace Estate in Clockface. Barry was in Frantic Rockers, Sonic Force and UK Renegades. Africa Bambatta was always blasting out the ghetto blaster. (Credit - Barry Kenyon)
UC Crew's first training poster from 2002 (St Helens)
UC Cew - St Helens performing at St Helens Central Library in 2006.
In 2005-2006 we used a CD music player like the one in the photo. It did the job but wasn't quite the ghetto blasters of the 80s.
World Record Attempt of the most Library Performances in one day. UC Crew - St Helens - 2015.
Junior Hordes in-house competition for students to gain confidence and battle experience. UC Crew - St Helens & Knowsley - 2015