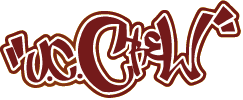 the national award winning hip hop organisation
Thank You from UC Crew
Posted on 04 Jul, 2021
UC Crew would like to say a huge thank you to all our partners, funders, coaches, supporters, students, volunteers and helpers with our most recent projects and throughout 2020 and 2021.
Partners and supporters:
St Helens Council departments and councillors from all parties have provided us with new opportunities to improve the community, increased the awareness of community causes, signposted people to our services and delivered activities to improve the lives of St Helens residents.
UK Breakin, have provided us with opportunities to share best practice of our organisation's journey and we're pleased to support them in becoming the National Governing body for Breaking in the UK.
Numerous voluntary, arts, sports, heritage and private sector organisations across St Helens and Merseyside, have been amazing partners in providing opportunities, sharing knowledge and organising joint events.
St Helens & Halton VCA have provided us with opportunities to network with other organisations, raise awareness and voice the opinions of our community at a strategic level.
Local media organisation Hack TV has helped us strengthen our marketing and digital capabilities to spread the word about our organisation and advertise what we do clearly and concisely.
Momo's Coffee Shop has provided a much-needed space for meetings, photoshoots and networking.
MD Creatives have been a major help in our road to recovery after lockdown by providing rehearsal space, guidance and motivation to get through the challenging times of being impacted by the pandemic.
St Helens B&Q donated gift vouchers to support the removal of the vandalism at the Sherdley Park art mural.
Funders:
The Big Lottery Fund, Community Foundation Merseyside, Sport England, Merseyside Police Crime & Commissioner, Department for Culture, Media & Sport, ForHousing and the Illegal Money Lending Team have funded several projects to change people's lives in St Helens by improving health, reducing crime, preserving heritage and boosting the economy.
Coaches:
Delivering breaking, graffiti, rapping, djing, break games and circus workshops through the pandemic and challenging times to improve the community and give everyone the best chance to succeed in life.
Students, Volunteers and Helpers
We have blown away by the commitment of our students, volunteers and helpers over the last 12 months. They have worked hard to maintain excellent attendance to improve themselves and the local community through art murals, performances, fundraising, litter picks, awareness campaigns, spreading positivity and being the role models that St Helens needs