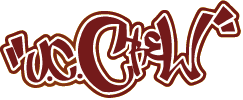 the national award winning hip hop organisation
St Helens Half Term Activities (Autumn)
Posted on 23 Oct, 2021
There are some amazing St Helens Half Term Activities happening this autumn during the Halloween and Bonfire night period to keep your sons and daughters busy, without costing you a fortune.
UC Crew has secured funding to provide your children and teens with exciting workshops to make them happy, boost creativity and provide memorable moments during the St Helens Half Term Holidays.
St Helens Family Friendly Hip Hop Breakfast - Sunday 24th October - 9:30-11:30
Join us for our Hip Hop Breakfast activity to bring you a great dose of Hip Hop in the morning, this morning taster event features multiple British DMC DJ Champion - DJ Rasp on the turntables, playing Family Friendly Hip Hop and delivering a DJ scratch performance.
UC Crew Breakers ((Break Dancers) will be performing a Breaking routine and training some moves throughout the morning.
KIngsyze graffiti will be delivering a taster graffiti art session for all to try.
The activities are aimed at children aged 7+ but we will cater for young siblings, for family booking please click the link:
https://www.eventbrite.co.uk/e/family-friendly-hip-hop-breakfast-tickets-186784305887
Address: 66 American Steakhouse. Unit 1 Bridge Street, St Helens WA10 1NU
St Helens DJ Class at Darkstar Laser Arena - Wednesday 27th October at 2:00pm
Join us for an incredible free DJ workshop and class with 5 x IDA UK Champion - DJ P-Nuts at Darkstar Laser Arena.
Children and young people aged 7+ can learn beat matching, scratching and turntable skills from one of the best Hip Hop Battle DJs in the country.
You can turn up on the day at Darkstar Laser Arena or if you have any further questions please message us https://uccrew.co.uk/contact-us-now
Address: Darkstar Laser Arena, Central Street, St Helens, WA10 1TZ
St Helens Dance Class - Breaking and Salsa Special at MD Creatives - Thursday 28th October
You're invited to join us for a special workshop for St Helens Dancers to learn Breaking (Break Dance) moves and steps, which have been inspired by the Latino community and culture from the birth of Hip Hop in 1973 until present day.
Professional B-Girl and Samba teacher Gillian SugaGill Orrett will be leading the workshop and providing an engaging and educational experience for everyone to enjoy.
This workshop is suitable for children and young people aged 7+ with an intermediate level of breaking, street or Hip Hop dance, movements will be enjoyable and can be used in freestyle routines for competitions or for fun.
To book on to this workshop, please message to reserve a place https://uccrew.co.uk/contact-us-now
Address: MD Creatives, Unit 4to, 8 Barrow Street, St Helens, WA10 1RX
Our free St Helens Half Term Workshops have been funded through our own fundrasing and funding for the Merseyside Police Crime Commisoner tp provide activities during the half term holidays.