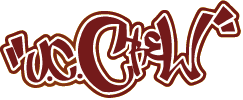 the national award winning hip hop organisation
St Helens Graffiti Art Project gives Cabbage Hall Allotments a new lease of life!
Posted on 19 Apr, 2021
In March 2021, UC Crew delivered a St Helens Graffiti Project to give Cabbage Hall Allotments a new lease of life, so that it would be a positive, inviting and inspirational place to visit for families, gardeners and volunteers.
Tom Glynn from UC UC Crew organised for the Cabbage Hall Container to become a new focal point for the allotments that everyone could enjoy, it currently was a large green container that was functional for storing equipment, shelter and running a small cafe. But we felt that a colourful Graffiti Art Mural focusing on fruit, vegetables and sunshine would be uplifting and energising.
We applied for funding from the Merseyside Police Crime and Commissioner to deliver a St Helens Graffiti Art Project at Cabbage Hallo Allotments with the St Helens Youth Justice Service. It was a great opportunity for young people who are involved in the criminal justice service to give back to the community, learn new skills to steer them away from committing crimes and meet positive role models that use Hip Hop arts to improve their own lives and as a career.
We commissioned Sie Daly from Kingsyze Graffiti to design a mural and mentor the young people from St Helens Youth Justice Service and community allotment helpers, in how to use spray cans effectively to follow the design and create an amazing art mural for all to enjoy.
Sie also spoke to the attendees about using Hip Hop arts to improve wellbeing and as a career, as he had done from once being a UC Crew attendee of St Helens Break Dance Class and Hip Hop workshops.
The graffiti art mural at Cabbage Hall Allotments took a day to complete and was hailed as an enormous success by the young people, volunteers, staff and members of the allotments. Everyone was so proud of what they had achieved working together and the amount of happiness that this container would now bring to the local community.