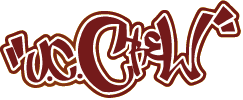 the national award winning hip hop organisation
Online Graffiti Workshops with UC Crew (Lockdown Challenge)
Posted on 30 Apr, 2020
In April UC Crew issued out the first Lockdown Challenge to the children and young people of St Helens to attend an online Graffiti Art workshop with our teacher Graffiti Art teacher Sie.
We were blown away by the attendance of the graffiti art workshop using the online zoom video platform, we had never delivered graffiti art classes by video before so this was a first for the UC Crew team. 32 young people attended the workshop to learn how to draw, sketch, shade and colour graffiti art pieces themed around the message of 'Stay Home, Stay Safe' to reduce the transmission of covid 19 and raise awareness.
All children and young people submitted their art pieces to win a prize and be featured on our website and social media channels. Below are some of our favourites St Helens artworks.