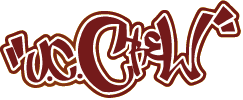 the national award winning hip hop organisation
Graffiti Art Workshop inspired by the Parr Art Mural
Posted on 19 Jul, 2021
The community of Parr are super excited to be receiving a graffiti art mural by Nomad Clan which has been commissioned by the Heart of Glass, funded by the Arts Council and supported by the Torus Foundation.
This is the first outdoor graffiti art mural in Parr since 2008 at Derbyshire Hill Youth Club, it's an exciting piece of artwork that has been welcomed by the residents of Parr.
UC Crew has recognised that there aren't enough activities for young people to do and many are inspired to be creative thanks to part Art Mural project and the talent of the Nomad Clan duo. We have been able to use our own funding to provide a free Graffiti Art Workshop at Derbyshire Family Centre on Tuesday 20th July from 3:00-4:30 to educate young people about graffiti history, graffiti art vs vandalism, sketching your art piece, font styles and can control.
Places are limited to 15 children and young people from ages 7+, please contact Cath at Derbyshire Hill Family Centre on 07525766351 to reserve a space.